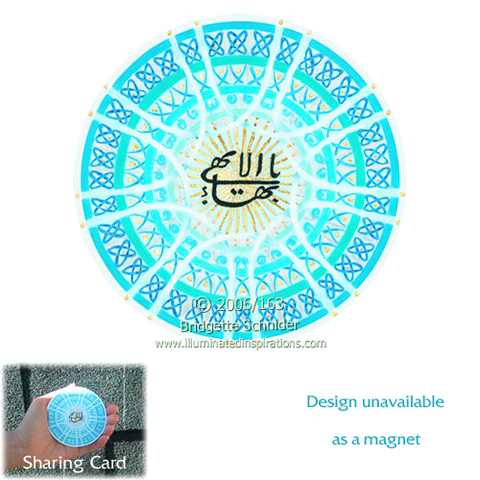 Illuminated Inspirations
The Greatest Name
The calligraphy written in the center has great spiritual significance and reads "Yá Bahá'u'l-'Abhá!" ("!يا بهاء الأبهى‎") meaning "O Thou the Glory of the Most Glorious!"
This exquisite design was adapted from a drawing by the architect of the Bahá'í House of Worship in North America, Louis Bourgeois. I had the opportunity to paint the design on the interior ceiling dome of the Bahá'í Center in Portland, Oregon. Photos are shown here in the additional product images.
Sharing Cards – Easy to take along and fun to give away!
Not available as magnets
Wall Prints – Illuminate a whole room!
Our recycled items of 100% post consumer fiber have a matte finish making it possible for you to write on their reverse sides. All other items are on more durable pearl finish photo paper.
Please be sure to click "Update Cart" when making quantity changes in your shopping cart.
---
More from this collection